Shop, Post Office and garage
There is a well-stocked shop at Aysgarth garage, which is at the east end of the village on the A684. The Post Office at the shop is open from 9am to 12noon on Mondays, Wednesdays and Fridays.
Concerts at Aysgarth church -

The Wensleydale Concert Series begins its concerts at Aysgarth Church on 13th May with a flute and harp recital by Meera Maharaj and Lucy Nolan (scroll down for the poster). For more information about all seven concerts in 2023 click here.
Church Services
For information about church services in Penhill Benefice churches which includes Aysgarth church,and at Methodist chapels see the Penhill Benefice website (CofE), and North Yorkshire Dales Circuit (Methodists).
Doctors' Surgery
There is a Doctors' Surgery at Aysgarth on the A684 on the left between the Aysgarth Falls Hotel and Aysgarth village. This is part of the Central Dales Practice. New residents are encouraged to register as soon as possible so that if you need to see a doctor he/she is able to access your medical records. Patient registration also helps sustain two surgeries in a deeply rural area.
Bus Services
For bus services in the Dales see Dalesbus
The Little White Bus company runs daily bus services in Wensleydale and Swaledale, while the 113 Garsdale Station Shuttle provides the link from the Settle Carlisle Railway Line to Gayle and Hawes.
Wheels 2 Work
Problems travelling to work, training or education? We have the answer – Wheels 2 Work (a not for profit charity) has a fleet of mopeds for loan.
Since its launch in 2001 hundreds of local people have benefitted from the scheme. Successful candidates receive a moped, safety equipment, insurance, tax and bike servicing for a small weekly contribution.
To be eligible for the scheme you must: Live in North Yorkshire; be 16 or over; have no suitable transport to travel to work, training or education; hold a provisional licence.
For more information and to apply online, visit www.hambletoncommunityaction.org or telephone Andy Reddick 01609 780458 Ext 209.
Yorkshire Ambulance Service Patient Transport Service (YAS PTS)
Self-booking is normal procedure in Richmondshire although not allowed in some other parts of Yorkshire. Patient's elgibility will be checked before a booking can be made as not all are eligible for PTS.
To book an appointment phone 0300 330 2000
To cancel a booking phone 0330 333 9970
To request same day transport phone 0345 122 0535
Waste Not Want Not!
NHS Hambleton, Richmondshire and Whitby CCG has developed these posters with our local GP surgeries to encourage us to help with saving both time and money.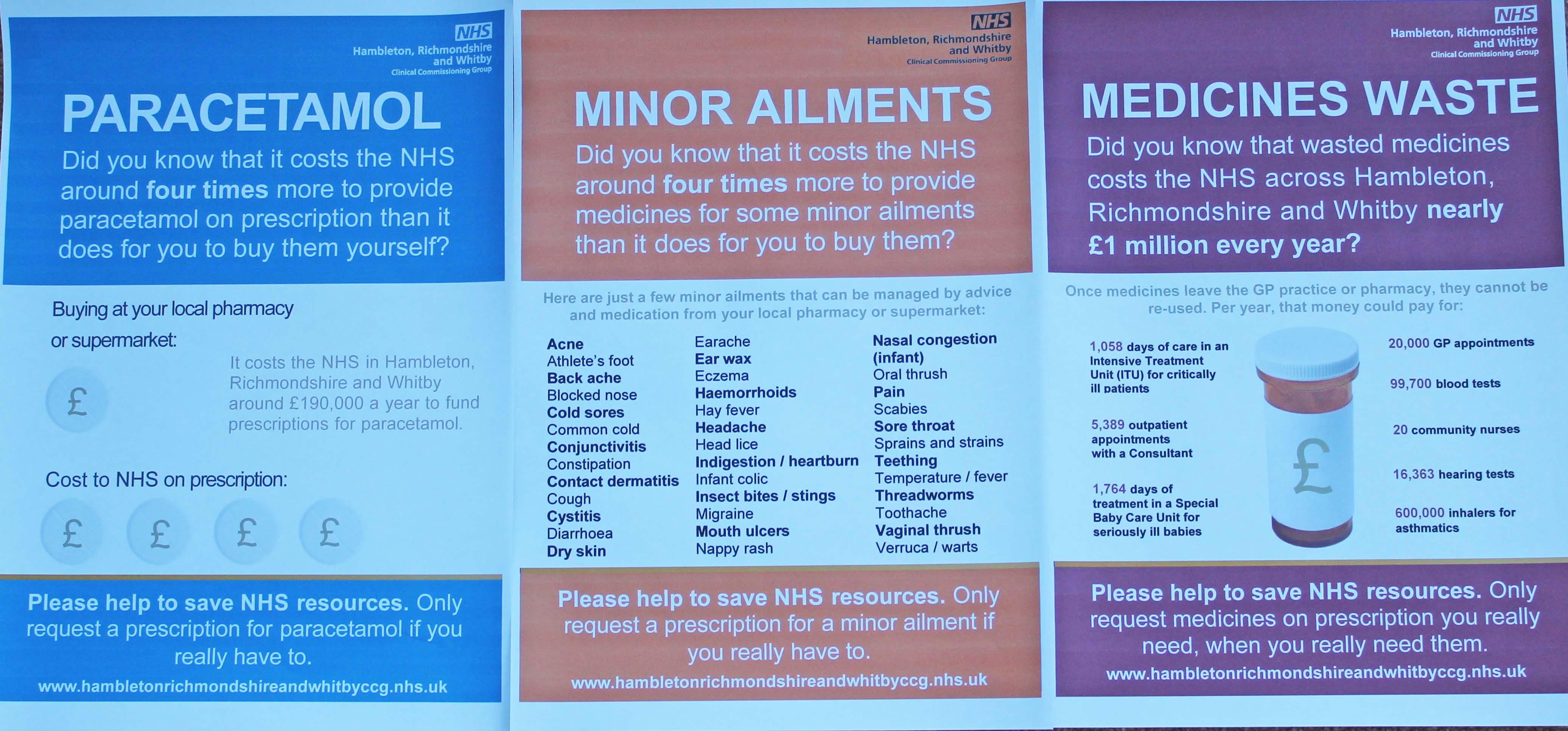 click on image for larger version