Thornton Rust is a small village with a long history dating right back to the Domesday Book. (Click here to read more)
Today there's plenty going on in the village, much of it centred around the institute. At the back of the institute there is a garden and patio where both parishioners and walkers can rest and enjoy the beautiful view across Wensleydale. For the village car park drive into the lane opposite the institute (The Outgang).
The village car park has been greatly improved and a picnic bench and a seat have been installed beside West Beck. Most of the work was done by villagers on a voluntary basis with the support of the Yorkshire Dales National Park Authority's Sustainable Development Fund. The presentation of a cheque from the fund and an interpretation board was made on April 5 2018 and the villagers celebrated the completion of the work in June 2019.
The institute's management committee arranges coffee mornings and that in aid of the Macmillan Cancer Support Charity has become an annual event. Visitors are welcome at all events in the institute. To book the hall contact Martyn Donno at 01969 662649, or at This email address is being protected from spambots. You need JavaScript enabled to view it.. See the Thornton Rust News page for a diary of events in the village including those at the institute.
The village is unique in Wensleydale in that it has had a Mission Room in a converted traditional barn since the late 19th century (pictured below). There is usually an evening prayer service in its cosy upper room on the fourth Sunday of each month (See Penhill Benefice Services )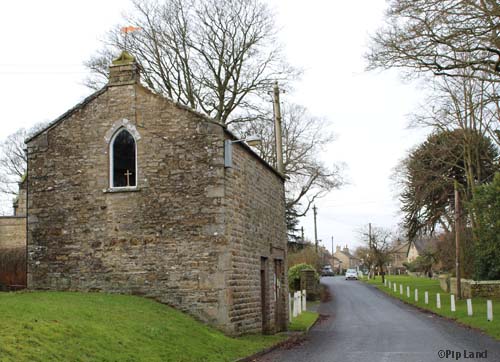 The villagers have worked hard to maintain the Mission Room, the car park and picnic area at the Outgang, and also the Kennel Field where a profusion of wild flowers bloom in the spring and summer.
Below: Looking down on the village from the Kennel Field